The Family Oss' passion for warm hospitality
Hotel Miralago Pergine Valsugana owes its existence to the initiative of Mr. Fabio Oss back in 1956 and the Oss family passion for warm hospitality. They have more than 60 years of experience in the hospitality field in Trentino!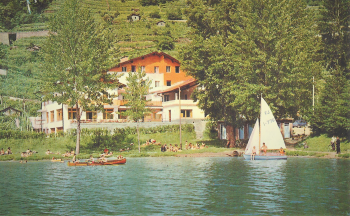 Over the years the passion, courtesy and friendliness have remained the same, reaching the second generation with Claudio, Leandro and Vasco Oss who manage the hotel. The restaurant is now run independently. In 2011 after a long and challenging renovation, the doors of the current three star Apartment Hotel Miralago opened.
The original 50 rooms were converted into 38 comfortable and cosy studio apartments, all equipped with kitchen, living room, private bathroom and panoramic balcony. In addition to the classic bed and breakfast formula, and in keeping with the new tourist trends on offer, it is now possible to have a kitchen area within each accommodation.
The building is in continual evolution to ensure guests have an experience that is rewarding but at the same time, innovative and relaxing.
In 2016 an enlarged breakfast room as well as a new functional area with meeting room, gym and children's play area were added. The new wellness centre is nearing completion and will open soon.